(Click Here to listen to the show)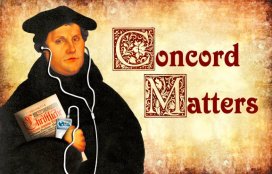 Sixth Commandment – what it means and how that applies to today.  The host and guests discuss the raw meaning of the words of the Sixth Commandment from the Small Catechism, the institution and gift of marriage, procreation, and all of the modern (and not so new) ways in which this commandment is a favorite for sinners to break.  Also discussed is the forgiveness of sins upon hearing the condemnation of the Law.
Hosted by Rev. Joshua Scheer, Sr. Pastor of Our Savior Lutheran Church in Cheyenne, Wyoming. With guests Rev. Evan Goeglein (Pastor of Faith Lutheran Church in Rogue River, Oregon; Co-host of Table Talk Radio)and Rev. Brian Kachelmeier (Pastor of Redeemer Lutheran Church in Los Alamos, New Mexico; host of Redeemer Theological Academy).