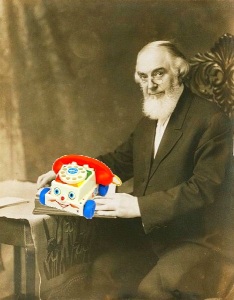 The other day I received a phone call from a "Jehovah's Witness." This may seem strange. Usually, "Jehovah's Witnesses" knock on doors. Now of course the caller did not say, "Hello, I am a student of the Watchtower." Instead, he was very deceptive and acted as if he were truly a student of the Bible. He pretended to be interested in the church that I serve. He very politely asked if I could answer a question regarding the teaching of our church as he had found it on our website. He wanted to know why we teach that the One True God has revealed Himself in three persons.
I took the bait. I was more than willing to explain why we confess the Biblical doctrine of the Holy Blessed Trinity. Immediately, he quoted from the Gospel According to John chapter 17 in which Jesus says,
"And this is eternal life, that they know you the only True God, and Jesus Christ whom you have sent." (John 17:3)
As soon as he finished reciting this passage, he rattled off 1 Corinthians chapter 8 in which Paul says,
"For although there may be so-called gods in heaven or on earth—as indeed there are many "gods" and many "lords"— yet for us there is one God, the Father, from whom are all things and for whom we exist, and one Lord, Jesus Christ, through whom are all things and through whom we exist." (1 Corinthians 8:5–6)
Without hesitation he began to ask why the church that I serve believes that the Only True God is three persons when these passages teach us that God is one person. He acted as if he really wanted to know the answer. Thus, I started to answer his question by first explaining the term "person" in order that there would be no confusion in our conversation. I wanted him to understand the terminology that the church chooses to use to articulate the apostolic doctrine that is revealed in the sacred scriptures. I told him that the English word "person" comes from the Latin word "persona." Next, I explained that to correctly understand the word "person," one must realize that the Greek word that the church has historically used is "hypostasis" (ὑπόστασις) which is used in Hebrews chapter one. In this passage we are taught that Jesus is the exact reproduction of the hypostasis of the Father. Thus, the Father is one hypostasis and the Son is a second hypostasis.
Without allowing me the opportunity to continue, he abruptly cut me off and told me that I was wrong. He interjected that the Greek word for person is "anthrōpos" (ἄνθρωπος). I assured him that in the language of the church that the Greek word is "hypostasis" (ὑπόστασις). He assured me that I was wrong and I had no idea what I was talking about. He insisted that God was an "anthrōpos" (ἄνθρωπος), that is, a man or a person. Then he preceded to lecture me further on the Greek language by explaining that the word "kyrios" (κύριος), which we translate as Lord, really means mediator. He didn't even realize that there is actually a Greek word for "mediator" it is "mesitēs" (μεσίτης). See 1 Timothy 2:3-4. He was a self-proclaimed Greek scholar.
At this point, the conversation became rather comical. Greek words mean whatever he wanted them to mean. Actually, Greek words mean whatever the Watchtower says that they mean. This corny type of argumentation sounded extremely familiar. I asked him straight up if he happened to be a "Jehovah's Witness." He said, "Yes." Once the mask was removed, he became extremely rude, belligerent, and arrogant. Because I did not agree with the Watchtower, he persisted to describe how uneducated and ignorant that I was. He would lecture me for minutes on end and then ask why I was unable to answer any of his questions. As soon as I would begin to answer one of his questions, he would quickly cut me off and engage in another hot tempered monologue. He did not really want to learn why Lutherans teach, believe, and confess the Holy Blessed Trinity; he only wanted to teach me what the Watchtower taught him. As the Watchtower is deceptive, so too are the followers of the Watchtower.
Ironically, in both of the two verses that he quoted, the Greek word for God, "theos" (θεός), is lacking the definite article. Thus, according to Watchtower Greek scholarship the Greek should be translated as "god."
"And this is eternal life, that they know you the only true god…" (John 17:3)
"…yet for us there is one god, the Father…" (1 Corinthians 8:6)
I was never given the chance to answer the original question or any other question. However, this caller never intended to allow me the opportunity. Students of the Watchtower do not want to become students of the Bible. They have an unteachable heart that has been seared by the deceptive "scholarship" of the Watchtower. "Woe to those who call evil good and good evil, who put darkness for light and light for darkness, who put bitter for sweet and sweet for bitter! "Woe to those who are wise in their own eyes, and shrewd in their own sight!" (Isaiah 5:20-21)